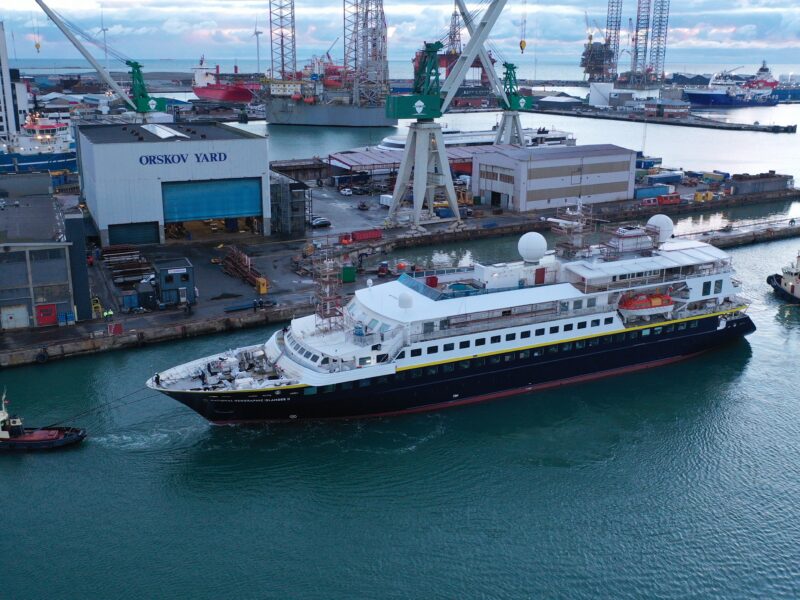 National Geographic Islander II at Orskov Yard
Lindblad Expeditions visits the most remarkable places on the planet – discovery is in the Lindblad DNA and has been for more than 50 years. National Geographic Islander II has just been added to their fleet and will sail year-round in the Galápagos Islands starting in August 2022. The 280 feet long ship accommodates 48 guests and the has been expertly refitted to facilitate the active exploration at Orskov Yard. The ship arrived at Orskov Yard in November 2021 undergoing a large rebuilt of highest quality. The refit for Galápagos includes key environmental and fuel-efficient upgrades like modifiedoutdoor lighting to meet Galapagos National Park Requirements, special paint, and recycled condensate water from the newly installed air conditioning system. For enhancing safety, a newly installed Inergen Fixed Fire Fighting System in all machinery spaces.
At Orskov Yard the ship underwent a complete upgrade of the entire vessel including a renaming, general maintenance, and repairs. A new platform for outdoor dining area was installed as well as a new HVAC unit, upgrade of HVAC System, a new crane, and a new chiller unit. Furthermore the propulsion system and stabilizers were overhauled, and the complete hull was blasted and painting.
In May 2022 National Geographic Islander II left Orskov Yard ready to give their guests some extraordinary experiences.
Do you want to know more about National Geographic Islander II: https://world.expeditions.com/about/fleet/national-geographic-islander-ii/