History timeline and anniversary song
Family owned for more than 60 years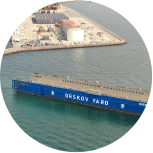 2021
In January 2021 the new floating dock was ready for operation. It was a milestone to finally receive the dock and expand the capacity and customer range.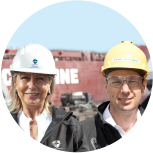 2015
Since 2015 the Executive Board has consisted of Christina Ørskov and Lars Fischer.
Jeppe Ørskov passed away in 2015.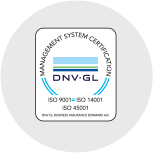 2014
In 2014 Orskov Yard was triple certified with ISO 9001, 14011 and 18001 certifications.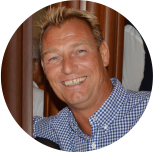 2003
In 2003 focus changed. Instead of building new ships the shipyard now focussed on repair and conversion of ships. The next generation took over the responsibility with Jeppe Ørskov as Managing Director and Christina Ørskov as Chairman of the Board.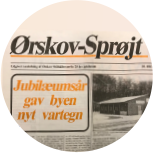 1983
Ørskov Sprøjt" 25-year anniversary edition was released 35 years ago in 1983. Read the entire paper at orskov.dk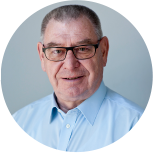 1972
In 1972 the son Niels Ørskov Christensen took over the responsibility of Ørskov Christensens Steel Shipyard.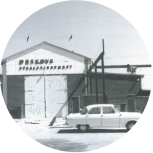 Early picture of the yard facilities.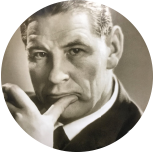 1958
Arne Ørskov Christensen founded Ørskov Christensens Steel Shipyard in 1958.